Competitive open economy 
Iceland sponsors a favorable business environment, with low corporate tax rates, abundant land, and green energy at very competitive prices within a regulated European legislative framework. 
Iceland is a member of the WTO and part of the European Union (EU) internal market through European Economic Area (EEA) agreements for tariff-free access to the EU. Iceland has signed over 50 double taxation treaties and free trade agreements with China. The corporate income tax rate in Iceland is one of the lowest in the world at 20%. Large projects undertaken in Iceland with international entities are frequently handled in foreign currency such as Euros or US Dollars.  
Incentives for green investments
Cushman & Wakefield's 2021 Data Center Global Market Comparison ranks Reykjavík as one of the best markets globally for incentives offered. There is generous support for R&D and for relocating foreign experts to Iceland. New green incentives encourage private investments and promote environmentally sustainable Foreign Direct Investments.
Deep dive into green investments in Iceland
Naturally cool   
Iceland's mild oceanic climate makes year-round (free) ambient cooling a reality. Anyone who has visited Iceland will remember the wind! While the strong gusts can make travel enthralling, Iceland's chilly weather is perfect for cooling data centers.
Iceland's weather varies little, with annual temperatures between 20°C and -10°C (70°F to –15°F). These are ideal conditions for data centers and perfect for cooling year-round, which significantly reduces operating costs. This mix of mild temperatures and 100% renewable power, 100% of the time, allow Iceland to run data centers with a Power Usage Efficiency (PUE) range of 1.05 –1.2 (depending on the specific workload) in contrast to the 2020 average global PUE of 1.59 for select existing data centers, reported in a survey by Statista.
Globally, data centers are consuming a greater supply of the world's electricity each year. According to a whitepaper by Data Centre Dynamics Ltd (DCD) titled Data Centers & the Environment 2021, data centers consume approximately 3% of the world's power. It is predicted to reach 8% soon. Your CO2 emissions may be reduced by up to 90% by moving your data center to Iceland compared to places that generate power with coal, oil, or natural gas.  
Average high and low temperatures in Iceland
Iceland enjoys a mild climate year-round and is in fact much warmer than other regions of the same latitude, due to the warm Gulf Stream. The winters are mild and summers are cool.
Jan
Feb
Mar
Apr
May
Jun
Jul
Aug
Sep
Oct
Nov
Des
Room to grow in Iceland 
Iceland is a rare exception in Western Europe as it has land open for development, untapped hydroelectric and geothermal power, and incentives to develop green industry. Modern and reliable power infrastructure, long-term energy contracts, and a transparent regulatory framework ensure that your data center can expand here in the future.
You've got the power (you can count on)
For decades, energy-intensive industries have moved operations to Iceland to make use of reliable electricity at stable, long-term, and highly competitive prices via a secure and modern electrical grid designed to meet the robust requirements of energy-intensive industries. Iceland is fortunate to have plentiful sources of renewable energy that make pricing and supply predictable — with one of the lowest carbon footprints globally. Cushman & Wakefield 2021 Data Center Global Market Comparison lists Reykjavík as one of its top ten greenest marketplaces for data.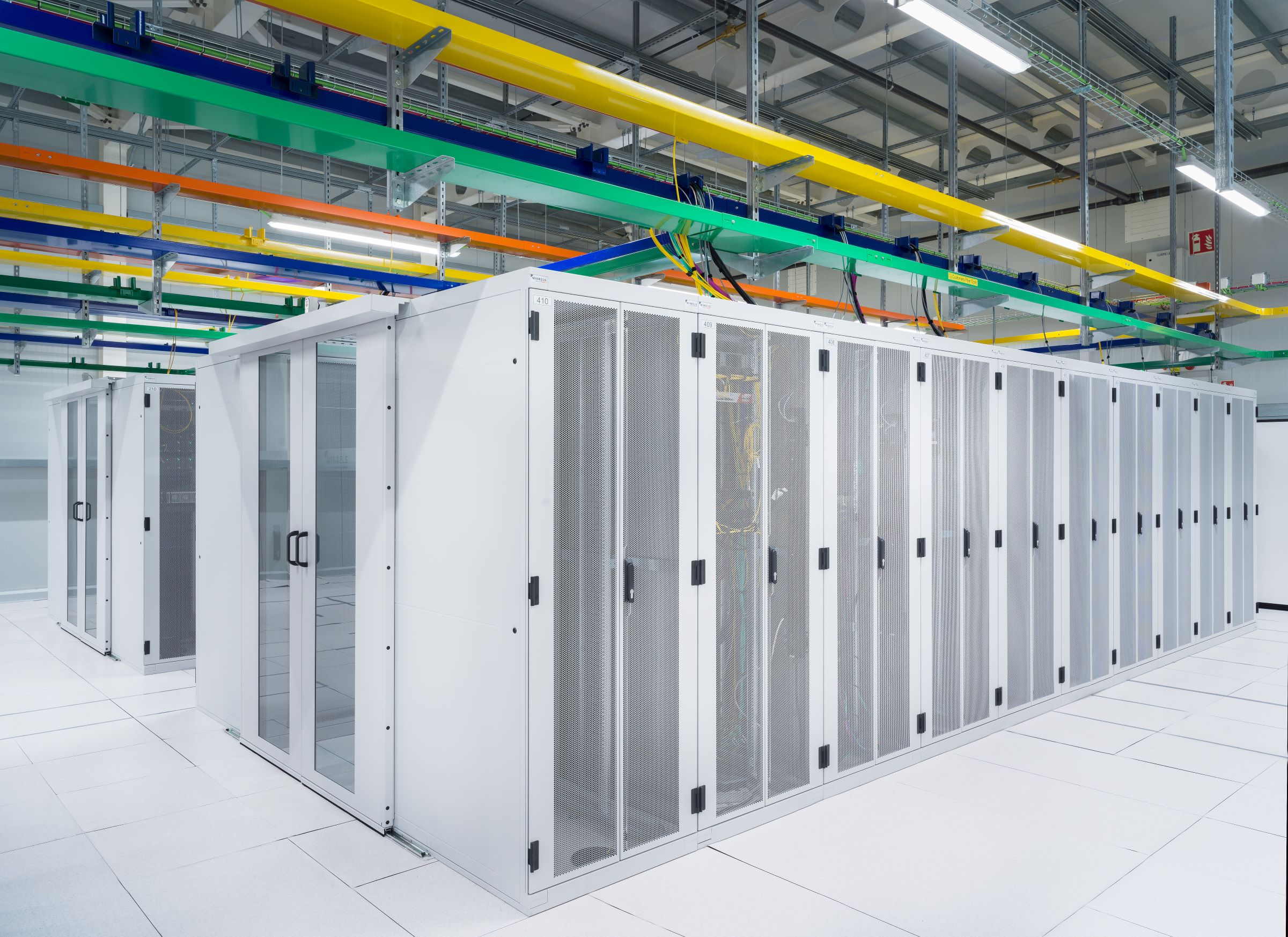 According to the World Economic Forum's Global Competitiveness Report, Iceland consistently ranks among the most reliable electricity suppliers in the world. Landsnet, Iceland's state-owned, regulated transmission system operator (TSO), owns and operates the entire transmission system. Icelandic power producers supply companies with a constant load of sustainable energy with significant savings in CO2 emissions, insulated from the effects and shifts in carbon costs due to changes in either legislation or carbon market pricing. For a real-time snapshot of the climate impact of the global electricity supply, see electricityMap.
Iceland has pledged to be carbon neutral by 2040, and power producers, and Landsnet, are actively taking measures for all operations to be carbon neutral even earlier.
Travel to Iceland at the speed of light  
Iceland ranks #1 in the ICT Development Index published by The United Nations International Telecommunications Union. The index rates 176 economies based on information and communication technologies (ICTs) and internationally comparable data and agreed methodologies.
Iceland has installed several high-capacity terrestrial and submarine cable networks that exceed the highest quality standards for international data centers, high-performance computing, cloud services, content providers, and government services. Terrestrial networks are diverse and ensure throughput via multiple routes around the country. Iceland serves as a North Atlantic data hub with submarine cables connecting North America, the UK, Greenland, Faroe Islands, and Denmark. In late 2022, the new IRIS cable will directly connect Iceland and Ireland. IRIS will be Iceland's third cable link to Europe, improve security and strengthen its digital resilience to crucial network hubs.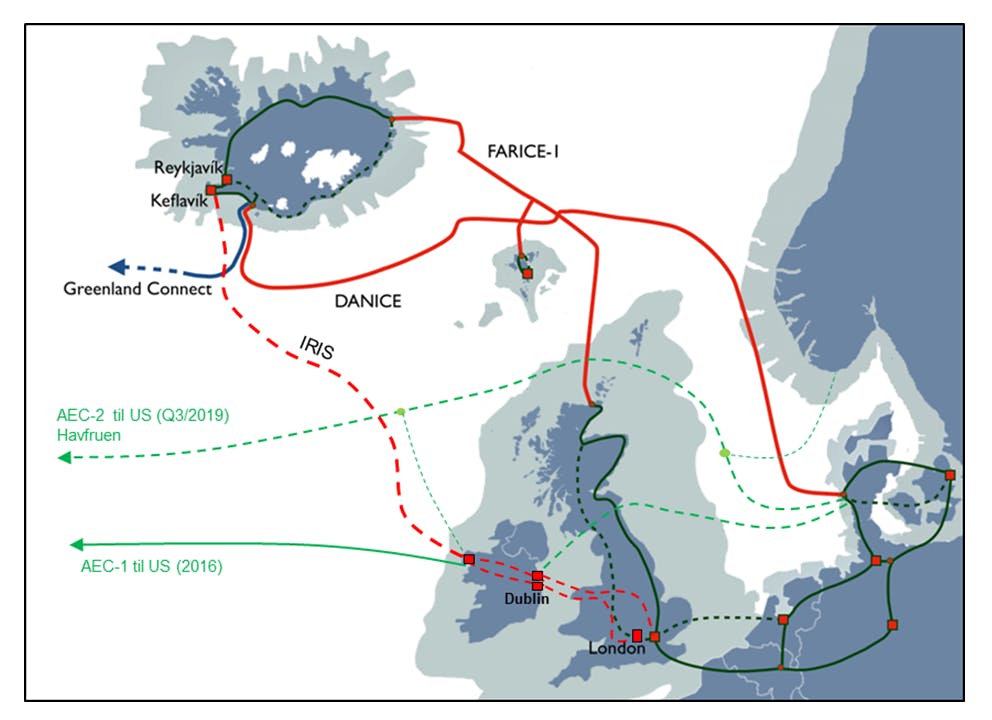 The submarine cable system is designed to minimize the risks of outages and maintained for security and redundancy. A combination of stable paths in Iceland, multiple routes abroad, and a historically reliable submarine cable system — without any single point of failure — have allowed users in Iceland to reach 100% availability to international networks. For further information, please see Farice. 
Mitigating risks   
Data center facilities and networks are designed robustly and meet all European building codes. Iceland's unique environmental conditions and known hazards are always kept in mind when constructing facilities. Despite earthquakes and scenic volcanoes, Icelandic data centers maintain near 100% uptime and have not suffered any damage to infrastructure.